@

Widowmaker

:

(22 April 2014 - 05:48 PM)

Perfect--- I am behind you Keg.

@

Kegaro

:

(22 April 2014 - 03:43 PM)

The problem is Widow... I like to play as one of the big guys (Max Suit)... lol

@

Kebab

:

(22 April 2014 - 03:40 PM)

WOT has another patch due out friday to address the stability issues some users suffered http://forum.worldof...71#entry7038671
@

Widowmaker

:

(22 April 2014 - 03:21 PM)

Kegaro I am only a 10 rank and do ok. Hide behind the big guys. Sith I' ve given up on navagation I'll just follow you. LOL.
@

Jadefalcon

:

(22 April 2014 - 01:28 PM)

New patch for BF4 coming out. Although mine has been running so well I don't know what they have to fix.

@

Kegaro

:

(21 April 2014 - 11:44 PM)

So I played Planetside 2 tonight... it's changed... and it's not a very hospitable place... especially for someone who's only battle rank 34 going against people who are battle rank 70 to 80.

@

SiThSpAwN

:

(21 April 2014 - 03:24 PM)

Enough of that WIdow, you need to work on your Navigation in IL2
@

Kegaro

:

(21 April 2014 - 03:03 PM)

It's been a while since I have played, maybe I'll dust the cobwebs off the ol' Mosquito.

@

Widowmaker

:

(21 April 2014 - 02:25 PM)

just got back into Planetside 2. would be fun with more friends playing.

@

SiThSpAwN

:

(21 April 2014 - 02:13 PM)

I couldnt get into Planetside 2... but if something gets good reviews I will try it out... but no SOE early adopter or first day buyer here...

@

Kegaro

:

(21 April 2014 - 02:06 PM)

They have been making strides... Planetside 2, Landmark, upcoming EQ Next... I'm willing to at least give it a try.

@

SiThSpAwN

:

(21 April 2014 - 01:34 PM)

I liked the DayZ mod, I just havent picked up the stand alone yet... SOE makes me physically ill
@

Kegaro

:

(21 April 2014 - 01:25 PM)

Get the stand alone... although this H1Z1 thing from SOE looks kind of interesting. Suppose to be early access for it towards the end of May.

@

SiThSpAwN

:

(21 April 2014 - 01:05 PM)

Oh, just got an email from TrackIR saying it is officially supported... it might just be they are slow... I havent looked at it in sometime, so I didnt know... been needing and excuse to check it out again.

@

Kegaro

:

(21 April 2014 - 12:59 PM)

Are you talking DayZ mod or DayZ stand alone? TrackIR has worked from day 1 with DayZ stand alone as they are using the Take On Helicopter / ARMA III engine hybrid. I would also imagine that it worked in the DayZ mod as well since the mod used the ARMA II engine which worked with TrackIR. Personally I just hold down the left Alt key when I want to look around.

@

SiThSpAwN

:

(21 April 2014 - 11:59 AM)

Hmmm DayZ now supports TrackIR... might have to give it another look just to check that out...

@

Ricky

:

(21 April 2014 - 05:00 AM)

Kebab: Sad that they don't use ts. If I see someone on ts, it is much easier to join in game. I have a way to go there I admit. Will do so from now on.

@

Ricky

:

(21 April 2014 - 04:58 AM)

The latest maps om Bf4 are great. No problems either except my pc, as it crashes much rarer than it used to.

@

Ricky

:

(21 April 2014 - 04:56 AM)

I'm really sorry to say I never met him. My prayers are with him and his family

@

Magman

:

(20 April 2014 - 09:11 PM)

im sad jim is a great guy and he made my time on DADS a great one prayers for all

@

Jadefalcon

:

(20 April 2014 - 08:23 PM)

I'm with you Rob. I am truely previleged to have met the man. A DaD in every way!!

@

Robb The Bruce

:

(20 April 2014 - 08:19 PM)

GOD be with PapaJim and please keep him and his family in your prayers!

@

Jadefalcon

:

(20 April 2014 - 08:19 PM)

I agree with Ricky BF4 had it's problems upone realease but they have been cleanded up. The latest DLC is really fun nd even some of the early maps are really good. All we need to do is slow down and play a game . If we stick with it we'll get used to it and < MHO , enjoy it.

@

Kebab

:

(20 April 2014 - 05:07 PM)

Ricky only 3 of them where playing WAR Z the others where playing WOT however there where another 4 in WOT not on channel which is becoming the norm sadly

@

Ricky

:

(20 April 2014 - 04:08 PM)

As for now I can see 5 DaDs in ts on the War - Z channel. Too bad I haven't War - Z. I am afraid of Zombies as well...
@

Ricky

:

(20 April 2014 - 04:04 PM)

I hear what you say, Kegaro. Bf4 has ie become relativly stable and functionable. I totally agree with you that there are too many games released and many of them are released waaaay too early with bugs. But in the old days there were plenty of games as well, but we gathered around CoD4.

@

Kegaro

:

(20 April 2014 - 01:53 PM)

Plus there hasn't been any killer triple A title released in a long time. They are either released to early and full of bugs which turn people off. Or they have received massive corner cutting, i.e. Titanfall... no SP campaign on a $60 game. Then there are all of the Indie Titles... most of which never live up to their potential.

@

Kegaro

:

(20 April 2014 - 01:49 PM)

@ Ricky... we tried the vote thing a while back, it didn't help. One of the problems is that now a days there is just so much content being released and those of us with A.D.D. just can't help but jump from one thing to another because we want to try EVERYTHING!!!

@

PlasmaZombie

:

(20 April 2014 - 09:24 AM)

Happy Easter to Everyone. @FD, i have Contagion and am always up for some co-op zombie killin.

@

Jadefalcon

:

(20 April 2014 - 09:00 AM)

Happy Easter to all the DaDs and their families!!

@

Crapgame

:

(20 April 2014 - 06:52 AM)

Infestation............... Stuck in Clearview...

@

Crapgame

:

(20 April 2014 - 06:49 AM)

Happy Easter everyone........ Looking at 72 and sunny today.
@

Ricky

:

(20 April 2014 - 05:41 AM)

How about making a vote to see what game most of us have. Yeah, I know. Some don't like that game and some won't play it etc etc. But we may gather the most that way. The last game I heard gathered some DaDs was CS GO. I have it. I'll even see if I can remember the password on WOT..
@

Ricky

:

(20 April 2014 - 03:02 AM)

Happy Easter to all!

@

Ricky

:

(20 April 2014 - 03:01 AM)

I agree with you all, but perhaps if we can join on comms if we play one game or another, we can unite again. We are scattered all over. Miss the old days too
Donate to The DaDs Army
0 members, 14 visitors and 0 anonymous users
18 Dec 2013
283 Views · 12 Replies ( Last reply by Kegaro )
05 Dec 2013
175 Views · 3 Replies ( Last reply by RangerJim )
02 Nov 2013
Here we go, It's official. The DaDs Army 2013 league starts on November 5th at 9:30 pm eastern. Captains get your teams ready.
To see the schedule, click here>>>>>>http://thedadsarmy.c...eague-schedule/
For the rules of engagement, check here>>>>>>http://thedadsarmy.c...ent/#entry62667
And to see your teams for battle, right here>>>>>>http://thedadsarmy.c...nnounced/page-1
HQ appreciates everyone's patience while we were getting the league prepared. We just wanted to make this a great league so lets do just that....
GENTLEMEN, LOAD YOUR WEAPONS AND STRAP ON YOUR NADES! iT'S FRAGGIN TIME AT THE DaDs ARMY!!!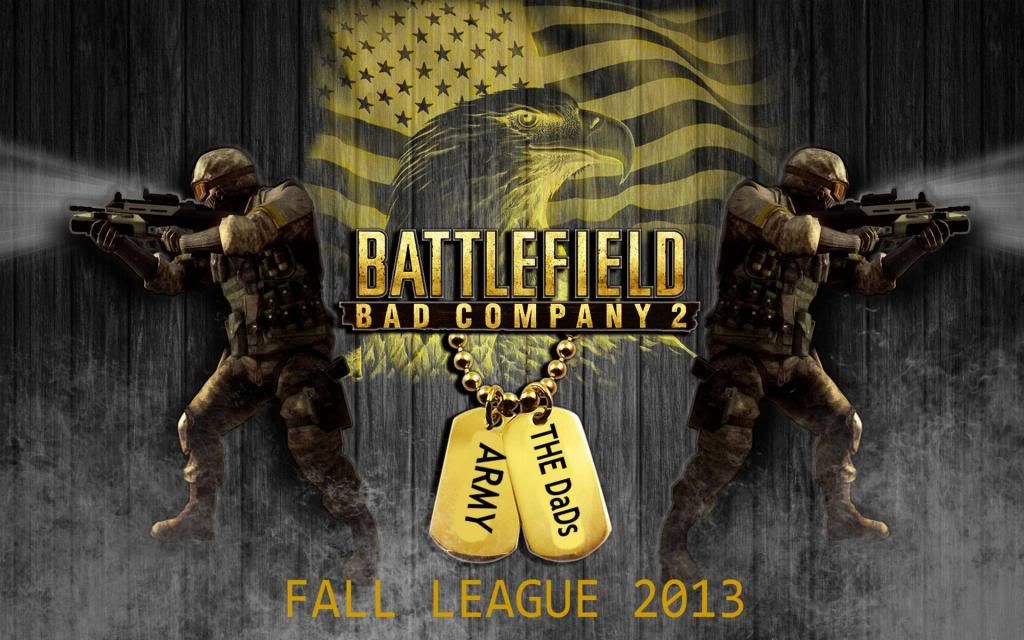 12 Oct 2013
03 Oct 2013
242 Views · 3 Replies ( Last reply by Kegaro )
Upcoming Calendar Events
There are no forthcoming calendar events
DaDs Teamspeak
Recent Status Updates
If you not having fun. Your not doing it right.
Just glad to be alive.
Wish I was at home playing DayZ...
63,621

Total Posts

556

Total Members
wniddim Newest Member

113

Most Online
14 users are online (in the past 15 minutes)
0 members, 14 guests, 0 anonymous users (See full list)