@

Burner

:

(03 August 2015 - 11:35 AM)

Find anything good?

@

Ricky

:

(03 August 2015 - 04:55 AM)

Things to do: Install Win 10, install WoWs (must try it), play some Bf4. Haven't played for a month.... Out searching with my metal detector
@

Burner

:

(02 August 2015 - 05:47 PM)

I'm trying it now on my laptop. It was a fresh install of win7 just for this upgrade, I told it to just do it in place. Lets see how it goes.

@

Tony960

:

(02 August 2015 - 04:40 PM)

this is the link to download Windows 10. Good idea is to make a iso disk of install

@

Tony960

:

(02 August 2015 - 04:40 PM)

https://www.microsof...nload/windows10
@

Sgt.Mike

:

(02 August 2015 - 11:09 AM)

1YEARONSTEAM Code gets you 200 gold in heros and generals

@

Crapgame

:

(02 August 2015 - 06:54 AM)

Have fun ......... Be safe out there.

@

Norseman3971

:

(02 August 2015 - 06:19 AM)

Well. I am now one the retired list. Now I am headed to sturgis to have a break with my wife and some buddies. Let the choas begin, 1.5 million people. Lots of new drivers.

@

Burner

:

(01 August 2015 - 11:08 PM)

action stations!!!!!!!!

@

Crapgame

:

(01 August 2015 - 11:41 AM)

Hey thanks Burner.
@

Burner

:

(01 August 2015 - 09:12 AM)

Go to your wargaming.net and enter ALBANY into the bonus code to get a free ship!

@

Robb The Bruce

:

(31 July 2015 - 09:42 PM)

R.I.P. Rowdy Roddy Piper!

@

Jadefalcon

:

(31 July 2015 - 08:37 AM)

Happy Birthday Republican!!!

@

Burner

:

(30 July 2015 - 09:40 PM)

You *have* to upgrade first. Then later, you can get do a fresh install. But I read you dont have to enter your key, because it remembers your PC. However if you're then building a new machine, I'm not sure. This is new, not sure if its changed further in that regard.

@

Jadefalcon

:

(30 July 2015 - 09:12 PM)

I've also been thinking of doing a new rebuild so would I reinstall Win 7 when the new rig is ready? Or can I just get the Win 10 off the net.

@

Jadefalcon

:

(30 July 2015 - 09:11 PM)

I will wait a little before doing the update as Pillar did.

@

Burner

:

(30 July 2015 - 09:03 PM)

All I did was empty the download folder, then from an administrative command prompt I ran the windows update command wuauclt.exe /updatenow to force a check. The window popped up and it said Windows10 is ready.

@

Burner

:

(30 July 2015 - 09:00 PM)

I didn't think much of it, I've actually forced that folder to be emptied in the past for servers at work when there was an issue. So it seemed natural. But all is well and it worked fine, call it lucky!

@

Jadefalcon

:

(30 July 2015 - 08:51 PM)

doesn't seem like a good idea when I read the commnets in reddit.

@

Burner

:

(30 July 2015 - 06:03 PM)

What I did to kick off my windows 10 upgrade sooner https://www.reddit.c...s_where/ctm3bpp
@

Pillar

:

(30 July 2015 - 04:48 PM)

i did upgrade

@

IrishMadman

:

(30 July 2015 - 02:57 PM)

can someone send me the instructions for setting up DaDs email. I reformatted and can't get it to work. Tried post by Insain but no luck

@

Robb The Bruce

:

(30 July 2015 - 01:00 PM)

Pillar, did you do a clean install or upgrade?

@

Robb The Bruce

:

(30 July 2015 - 12:43 PM)

Awesome! Thanks Ken!

@

Pillar

:

(30 July 2015 - 08:24 AM)

get windows 10 now https://www.microsof...nload/windows10
@

Pillar

:

(30 July 2015 - 08:22 AM)

windows 10 pretty sweet

@

Jadefalcon

:

(29 July 2015 - 10:10 PM)

Welcome home Skribe!

@

Burner

:

(29 July 2015 - 04:11 PM)

Windows 10 info from reddit https://www.reddit.c..._windows_10_is/
@

Skribe

:

(29 July 2015 - 12:08 PM)

Back from vacation. Back to the grind!
@

Jadefalcon

:

(29 July 2015 - 08:01 AM)

I got the C:\$Windows folder last night when I shut down. It just looked like a normal upgrade. But like others I'll wait awhile before trying Windows 10!!

@

FDNY

:

(26 July 2015 - 03:31 PM)

MEMBER DOWN

... PLEASE READ !!! http://thedadsarmy.c...gs-member-down/
@

Burner

:

(26 July 2015 - 08:52 AM)

He is gon git me. He knows my gamer alias. Haha... https://vine.co/v/OrLjaBdPHt3
@

Partypunk

:

(25 July 2015 - 01:42 PM)

Now its my turn to re-install windows
@

FDNY

:

(24 July 2015 - 08:53 AM)

http://forum.worldof...l-over-the-web/
@

FDNY

:

(24 July 2015 - 08:53 AM)
Donate to The DaDs Army
1 members, 2 visitors and 0 anonymous users
Burner
15 Jul 2015

192 Views · 13 Replies ( Last reply by Racer X )
24 Jun 2015
22 Jun 2015

Just a reminder about the CS:GO Monthly Event that will be held this Saturday evening.
Lock -n- Load
119 Views · 1 Replies ( Last reply by Kegaro )
27 May 2015

Just a reminder that the first CS:GO Monthly event will be held this Saturday evening.
Lock -n- Load
258 Views · 8 Replies ( Last reply by Skribe )
12 May 2015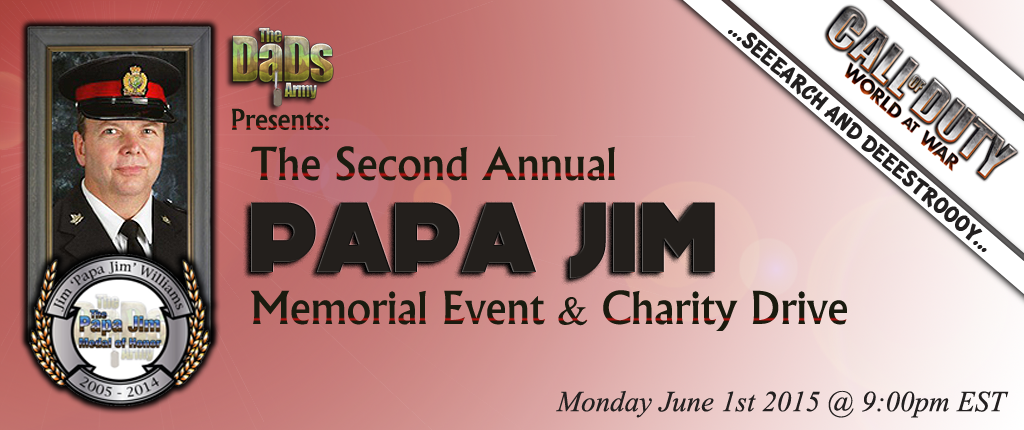 It's hard to believe, but it has been over a year since we lost one of our own. Papa Jim passed away on April 22nd of 2014. He was a beloved member of not only our community but also of the many communities he helped protect and serve for more then 40 years. In remembrance of Papa Jim we will be holding our second Memorial Event in his honor on June 1st, 2015 at 9:00pm EST. Also in commemoration of Papa Jim we will be running a charity drive for the entire month of June. All donations received by the end of June will in turn be donated to the Walker Family Cancer Centre, his families charity of choice. If you wish to make a donation during the charity drive please use the Donate button on the main page, just add a note for it's intent.
We all miss you Jim...
The DaDs Army
Posted on behalf of DaDs HQ who asked me to put this together.
253 Views · 4 Replies ( Last reply by DaDs HQ )
Upcoming Calendar Events
There are no forthcoming calendar events
Recent Status Updates
Wish there were more peo... what am I saying... hell, I wish anybody was playing TERA with me.

Show comments (3)
What ever happened to the CS:GO push a while ago? Did that game not work for everyone, I see updates all the time.

Show comments (16)
Last night was like the old days. Current and old DaDs members playing WAW. Come on game makers, give us something new that can continue that spark!

Show comments (1)
Hoarding the legendary loot in the stash!
Joey, have you ever been to a Turkish prison?
65,881

Total Posts

575

Total Members
Araielle Newest Member

113

Most Online
3 users are online (in the past 15 minutes)
1 members, 2 guests, 0 anonymous users (See full list)
Burner