@

PlasmaZombie

:

(11 December 2013 - 06:16 PM)

You were hiding out in the attack boat also. LOL

@

Magman

:

(11 December 2013 - 01:44 PM)

yes i got 2 lastnight:D and a side note AA is a def weapon it should sit back not like a tank at the front line
@

SiThSpAwN

:

(11 December 2013 - 10:12 AM)

Magman, do you get a badge for hiding out in your own base with the AAA?
@

InfilTraitor

:

(10 December 2013 - 11:08 PM)

@ Skribe... Ok, I think that DEF of yours Paid off the OFFense they were facing! Gosh Dang it!

@

InfilTraitor

:

(10 December 2013 - 11:06 PM)

CONSOLATION BRACKET! WHAT THE WHOOO HAAA! Blasphemy!

@

Magman

:

(10 December 2013 - 09:01 PM)

dads playing some bf4 tonight?

@

Magman

:

(10 December 2013 - 06:50 PM)

was a very good movie FD love the snowman lol

@

FDNY

:

(10 December 2013 - 05:01 PM)

Great job HQ !!!

@

FDNY

:

(10 December 2013 - 05:01 PM)

Saw that last weekend Mag,,,, Cute movie !!!

@

Jadefalcon

:

(10 December 2013 - 11:45 AM)

ProCon for BF4 will be offline while we are working with Fragnet to set up a better way for us to admin the server.

@

Robb The Bruce

:

(10 December 2013 - 12:02 AM)

Congrats to Round 1 Playoff Winners for DaDs Fantasy Football: Marauder and Skribe. Swiper and Undertaker had the first round byes.

@

Robb The Bruce

:

(09 December 2013 - 05:33 PM)

And my fantasy team took a dump! Worst score of the season..and of course, in the playoffs!
@

Magman

:

(09 December 2013 - 04:31 PM)

going to see the movie frozen with the fam
@

Skribe

:

(08 December 2013 - 10:23 PM)

My fantasy team went crazy! Sorry Inf...

@

Kegaro

:

(08 December 2013 - 07:52 PM)

@Finn... a few of the guys that worked on Terraria are on the team doing StarBound. It looks like Terraria, but the way the game plays is completely differnet then Terraria. It doesn't take place on a single map, you do a lot of planet hoping.

@

FDNY

:

(08 December 2013 - 02:18 PM)

Problem connecting to BF4 servers,,,,anyone else ???

@

Finn

:

(08 December 2013 - 11:51 AM)

Also, Skyrim has me pretty busy atm, that game is huge!

@

Finn

:

(08 December 2013 - 11:50 AM)

Starbound looked interesting, think I'll wait for the release though - it looks identical to Terraria, is it the same developer?

@

Skribe

:

(08 December 2013 - 09:14 AM)

Thx Pillar ill check that out

@

Kegaro

:

(07 December 2013 - 08:02 PM)

For anyone that liked Terraria... I highly recommend that you pick up StarBound

@

Partypunk

:

(07 December 2013 - 04:31 PM)

nice one Jade
@

Widowmaker

:

(07 December 2013 - 01:13 PM)

All BF4 Dads upgate patch out.

@

Nets

:

(06 December 2013 - 04:28 PM)

I r noob taht can't be bothered with forum searches. How 2 Teamspeak?

@

Pillar

:

(06 December 2013 - 04:22 PM)

skribe here is something a player in bf4 did to get their pc to play bf4 http://battlelog.bat...65219324626233/
@

Kebab

:

(06 December 2013 - 07:55 AM)

WOT 8.10 test server is now live should anyone wish to try out the new vehicles and features http://worldoftanks....10-public-test/
@

Robb The Bruce

:

(06 December 2013 - 12:25 AM)

Trailer looks awesome. The are actually introducing the Sinister 6 (some in this movie-Rhino, Electro, and the Green Goblin)

@

Robb The Bruce

:

(06 December 2013 - 12:23 AM)

The Amazing Spider Man 2 Trailer >>>>>http://bit.ly/1eZ2NAr
@

Robb The Bruce

:

(05 December 2013 - 11:03 PM)

It is off Server 1 now Skribe. The DLC is running on server 2.

@

Skribe

:

(05 December 2013 - 10:15 PM)

Can't join the DaDs server because it has DLC in the rotation. Even if its on a non-DLC map.

@

Jadefalcon

:

(05 December 2013 - 06:12 PM)

@ Party...don't you mean DEAD in War Z They zombies after all LMAO

@

Partypunk

:

(05 December 2013 - 01:38 PM)

Colorado V2 Servers are live in War Z

@

Kegaro

:

(05 December 2013 - 11:57 AM)

Picked up Starbound last night, so if anyone else picks it up let me know.
@

Jadefalcon

:

(05 December 2013 - 08:35 AM)

Premium GOT IT Wohoo!!

@

PlasmaZombie

:

(04 December 2013 - 06:29 PM)

Can you believe this? http://usnews.nbcnew...er-in-jail?lite
@

FDNY

:

(04 December 2013 - 04:24 PM)

PIllar that is the code I posted http://thedadsarmy.c...premium-20-off/
Donate to The DaDs Army
1 members, 4 visitors and 0 anonymous users
PlasmaZombie
05 Dec 2013
34 Views · 3 Replies ( Last reply by RangerJim )
02 Nov 2013
Here we go, It's official. The DaDs Army 2013 league starts on November 5th at 9:30 pm eastern. Captains get your teams ready.
To see the schedule, click here>>>>>>http://thedadsarmy.c...eague-schedule/
For the rules of engagement, check here>>>>>>http://thedadsarmy.c...ent/#entry62667
And to see your teams for battle, right here>>>>>>http://thedadsarmy.c...nnounced/page-1
HQ appreciates everyone's patience while we were getting the league prepared. We just wanted to make this a great league so lets do just that....
GENTLEMEN, LOAD YOUR WEAPONS AND STRAP ON YOUR NADES! iT'S FRAGGIN TIME AT THE DaDs ARMY!!!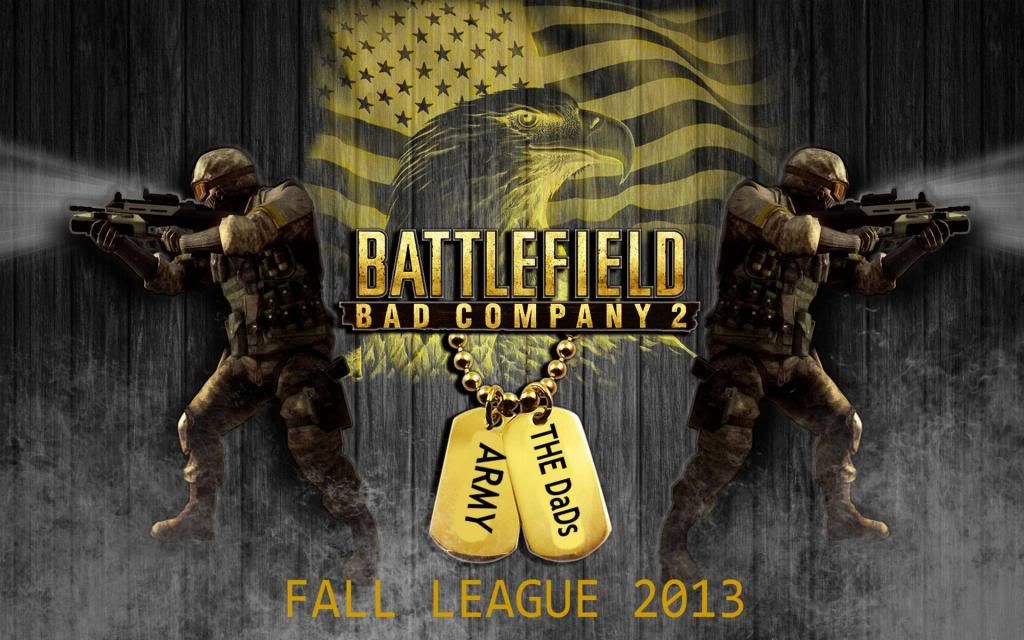 12 Oct 2013
03 Oct 2013
127 Views · 3 Replies ( Last reply by Kegaro )
23 Jul 2013
Upcoming Calendar Events
There are no forthcoming calendar events
DaDs Teamspeak
Recent Status Updates
DeeP freeze here this week -20f or -29c
Thanksgiving Honey Do list is in FULL Swing!!! [Joe walks away muttering, "Now where did I put that Windex?" ]
Finally feels like winter here. 70's during the day and 50's at night.
got KFC on the mind, must be close to Thanksgiving.
It's off to work I go!
62,883

Total Posts

537

Total Members
enfemus Newest Member

113

Most Online
5 users are online (in the past 15 minutes)
1 members, 4 guests, 0 anonymous users (See full list)
PlasmaZombie