@

PlasmaZombie

:

(24 May 2017 - 04:58 PM)

Wow!! Can't wait.

@

FDNY

:

(24 May 2017 - 02:52 PM)

Jade great news for us announcing FAR CRY 5

@

Jadefalcon

:

(23 May 2017 - 12:17 PM)

Thanks FDNY

@

FDNY

:

(23 May 2017 - 11:47 AM)

@Jadefalcon .... Enjoy it brother ad congrats to you and wife !!!

@

Jadefalcon

:

(23 May 2017 - 07:10 AM)

Hello...ello....ello....ello

@

Jadefalcon

:

(20 May 2017 - 11:31 AM)

Off for the weekend with my bride for our 19th anniversary!! Wohoo!!

@

Kegaro

:

(20 May 2017 - 12:06 AM)

I'm off the 25th to through the 29th. 3 day week, then a 4 day week.
@

Widowmaker

:

(19 May 2017 - 06:52 PM)

It would be am interesting poll. Would you like a Friday and a Monday off, or Monday/Tuesday off? I'll take 2, 4 day weeks, Instead of 1, 3 day week.

@

Crapgame

:

(19 May 2017 - 06:01 PM)

Yea but i am off till tue the 23rd...........
@

Jadefalcon

:

(19 May 2017 - 03:26 PM)

@ Widowm8ker Suh Weet!!

@

Widowmaker

:

(19 May 2017 - 01:23 PM)

Yea but I have Friday and Monday off.
@

Jadefalcon

:

(19 May 2017 - 09:35 AM)

It's Friday!!!!!!!!!!!!!!!!! Wait I'm retired everyday is Friday!!!!!!

@

Jadefalcon

:

(17 May 2017 - 09:31 PM)

@ Rob....Um....NOOOOOOOOOOOOOOOOOOOO!!

@

Robb The Bruce

:

(17 May 2017 - 03:16 PM)

Next Friday.... http://f13game.com/ What do you think?
@

Kegaro

:

(17 May 2017 - 10:56 AM)

I haven't been able to play since Sunday. Apparently that was the last day of Beta 7. Not sure when beta 8 or if there will be a beta 8.

@

Jadefalcon

:

(16 May 2017 - 07:35 PM)

@ Keg if the Beta Wave 7 has ended will I be able to play the game or should I wait for the next beta to come out! But for 22 bucks I'm willing to give this one a try.

@

Jadefalcon

:

(15 May 2017 - 07:35 PM)

I'll pick it up later tonight.

@

Kegaro

:

(15 May 2017 - 12:08 AM)

I picked up RS:Vietnam... it's fun, but still needs work. Some of the maps are way one sided. But I will continue to play it. It's currently on sale for 25% off as well if anyone else was thinking about picking it up.

@

Jadefalcon

:

(14 May 2017 - 01:38 PM)

@Widow that does look kinda cool. Thanks!

@

Widowmaker

:

(14 May 2017 - 12:57 PM)

Might even be able to have your own sever. The old game did.

@

Widowmaker

:

(14 May 2017 - 12:52 PM)

My boy is playing the beta for Tripwire's Vietnam. I loved their Red Orchestra Rising Strom. Looks good.

@

Kegaro

:

(14 May 2017 - 12:49 AM)

It is... and I've been reminding myself of that fact all day long. They really need to fix the server lag. I just got shot by a guy through a wall with a shotgun. I'll be taking another break from that game for a while.

@

Jadefalcon

:

(14 May 2017 - 12:02 AM)

@ Keg I read you thought PUBG was too much effort but I'll look at Squad.

@

Kegaro

:

(13 May 2017 - 11:14 PM)

For $30 you could play some PUBG or for $40 you could play some Squad.

@

Kegaro

:

(13 May 2017 - 11:12 PM)

I heard it was bad.
@

Jadefalcon

:

(13 May 2017 - 07:07 PM)

Anyone played Mass Effect I've heard it's good but really have no idea.

@

Jadefalcon

:

(13 May 2017 - 07:07 PM)

Hey now! That's my question! LOL I'm really looking forward to COD WWII but that's not till Nov. I guess I'll troll my Steam libary!

@

Robb The Bruce

:

(13 May 2017 - 04:34 PM)

Yeah......WHAT??

@

Jadefalcon

:

(13 May 2017 - 03:02 PM)

The question now is WHAT TO PLAY!!!!

@

Jadefalcon

:

(13 May 2017 - 02:47 PM)

122 hours plaeyed in Ghost Recon !!

@

Jadefalcon

:

(13 May 2017 - 02:44 PM)

finished Ghost Recon Wildlands it was a great ride! That's to all the DaDs that played Co Op with me to make this happen! LOVED the ending!

@

Skribe

:

(12 May 2017 - 08:52 PM)

I will wait for the multiplayer trailer. Sounds like they're going back to some roots - no regenerative health for example. Medics/health packs only. We'll see.

@

Kegaro

:

(10 May 2017 - 10:29 AM)

Same, I played The Division for over 6 months. I played Wildlands for almost 2. Would have played that longer but the game ran out of content. Now with nothing solid lined up I am bouncing all over my Steam library looking for something to hold my attention.

@

Jadefalcon

:

(09 May 2017 - 11:37 PM)

Well I bought Ghost Recon Wildland and have been playing it since it came out. I played the Division for months!

@

GreyMouser

:

(09 May 2017 - 08:45 PM)

nope... you guys will play 2 weeks and drop it. [being facetious, more like 3] <--- doubled down on the facetiousness.
Donate to The DaDs Army
Apply to The DaDs Army
0 members, 5 visitors and 0 anonymous users
09 Mar 2017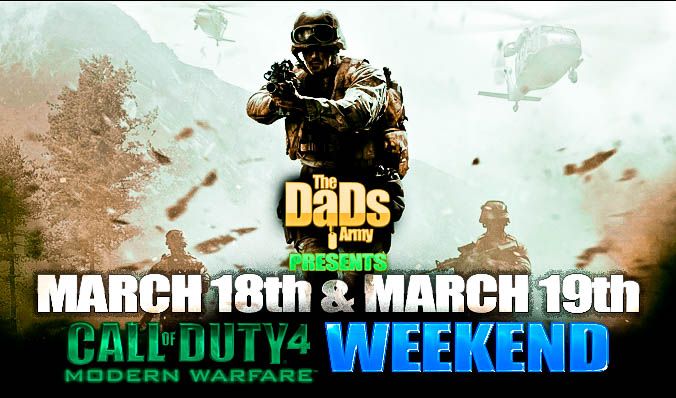 562 Views · 11 Replies ( Last reply by Jadefalcon )
20 Sep 2016
The DaDs HQ would like to invite all past and present DaDs members and Friends to a weekend of fun, fragging, and friends. So dust off those old cd's, get your game updated, and get ready to frag like it's 2007. The old DaDs Army CoD4 server is currently up and running, thanks to the hard work Pillar did to get things going. The server has tons of custom maps and is still running the ACE mod to unlock all weapons and attachments. Feel free to jump on at any time to auto-level your rank and get your load outs set. We hope to see you all on the server the weekend of Oct 7th.
-HQ-
605 Views · 17 Replies ( Last reply by Burner )
26 Jul 2016
Those of us in DaDs HQ wanted to post up a little blurb about some testing that has been going on. In the last week or so we have been testing out a new voice communication application that was brought to our attention by GreyMouser, and it's called Discord. So, if you haven't seen a lot of the usual people on Team Speak this past week, this is the reason why and you can blame Mouser
.
Discord is a new voice communications application that is currently in beta form and has been circulating around the gaming community for some time now. HQ decided to give this voice comms application a try to see how it compares to Team Speak and how easy and/or hard it was to setup and configure. Currently with Team Speak there are some issue that we feel will only be resolved by completely rebuilding our current Team Speak server, which will be a fairly sizable undertaking. So we figured what better time then now to test out a possible replacement. This is not to say that we will be moving away from Team Speak and going to Discord, but that also isn't an option that is out of the realm of possibility. As of right now the testing has been pretty smooth for an application that is still in beta. We currently have 9 DaDs members that are signed up and have connected to The DaDs Army Discord server, but we would like to see even more of you give it a shot.
So for the next few weeks HQ would highly encourage anyone that normally uses our Team Speak server to also download Discord and join The DaDs Army server. If you wish to find out more about Discord you can check out this link and see all the features that come along with it... I know my favorite so far is being able to use it on my iPhone. Also, please leave some feedback for us in the Discord thread so we know what you guys think of the application.
They have added a toggle to make the link permanent, so the link below should no longer expire.
-HQ-
14 Jun 2016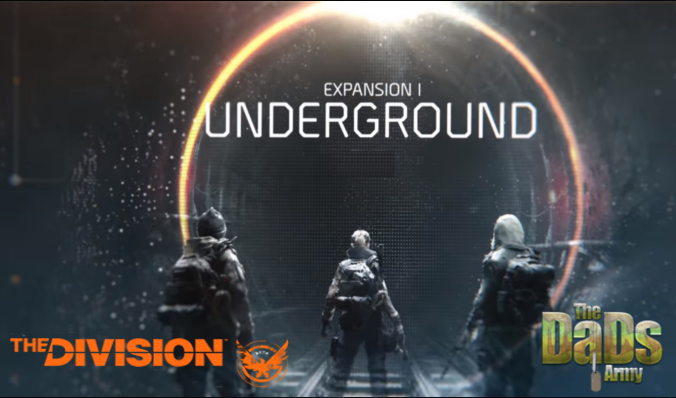 The Division 1.3 Update releases on June 28th
The first of the paid expansions for The Division is set to release on June 28th. This update will have players traversing the subways, tunnels, and sewers of Manhattan, each with random layouts. Underground will also include a new incursion, Dragon's Nest. This update also seems to be catering to the PvE players as there are no mentions of any changes being made to the DZ. There will be new gear sets and weapons introduced with this update as well.
Here are a few of the new things we have learned about for this update:
New Incursion: Dragon's Nest
New Heroic Mode Incursions (Falcon Lost, Clear Sky, and Dragon's Nest)
New Challenge Mode Missions (Hudson Yard and Queen's Tunnel)
New Weapons
New Gear Sets
535 Views · 5 Replies ( Last reply by Unreal )
05 Jun 2016
Over the last several years we've lost two DaDs that we all knew. Papa Jim and Kufie. This is the time of the year that we normally hold the Papa Jim memorial, but we'd like to rename it the Fallen DaDs Memorial. We will hold it around this time each year and it will honor any and all "Fallen DaDs" . Once again this year we will be playing World at War, which from prior experience, we know a lot of members still have loaded up on their computers. We've normally held the memorials on Mondays. So we'd like to designate Monday, June 20th 9:30 pm Eastern, as the date and time for the gathering. It's the day after Father's Day and that seems appropriate too. So post up below soldiers, if you can make it. And remember there will be very little "Search and Destroy...Argh" Spoken in our best Papa Jim voice. We are not asking for donations this year just some time playing together to remember some old friends.
582 Views · 11 Replies ( Last reply by Swiper )
Upcoming Calendar Events
There are no forthcoming calendar events
Discord
5 users are online (in the past 15 minutes)
0 members, 5 guests, 0 anonymous users (See full list)