@

DaDs HQ

:

(21 October 2016 - 11:00 PM)

TS is now offline for good. See info in the thread below. Long live Discord!

@

Jadefalcon

:

(21 October 2016 - 01:29 PM)

After playing the beta there was limited interest. How about a review good and bad stuff?

@

PlasmaZombie

:

(21 October 2016 - 12:52 PM)

Where is all the Battlefield DaDs?

@

Kegaro

:

(20 October 2016 - 12:30 PM)

Now they can finally start talking about the Survival update.

@

Kegaro

:

(20 October 2016 - 12:29 PM)

Just finished watching the SotG... not bad... only a 5 day wait for 1.4

@

Jadefalcon

:

(20 October 2016 - 11:57 AM)

Good thinking Ricky!

@

Jadefalcon

:

(20 October 2016 - 08:22 AM)

Thanks Pillar!

@

Pillar

:

(20 October 2016 - 07:08 AM)

the division update 1.4 25th of October

@

Ricky

:

(20 October 2016 - 02:45 AM)

Had an argument with myself. Which Bf1 edition to get. Decided for the Ultimate edition. Why? Long winter with cold, dark nights ahead.

@

Pillar

:

(19 October 2016 - 09:27 PM)

or you could get season pass for division from gta 34 dollars

@

Pillar

:

(19 October 2016 - 09:24 PM)

you can get it from g2a for 60 dollars CAN widow vs the 80 from origin

@

Widowmaker

:

(19 October 2016 - 08:19 PM)

After stareing at the price,,Considering sitting this one out..

@

Ricky

:

(18 October 2016 - 10:54 PM)

I'm going for the Deluxe edition, I guess. You?

@

Widowmaker

:

(18 October 2016 - 06:06 PM)

Ricky what edition are you getting for BF1??

@

Kegaro

:

(17 October 2016 - 04:08 PM)

The Division PTS is closing down tomorrow... now for the long wait until the 1.4 update is released.

@

Ricky

:

(14 October 2016 - 03:02 AM)

Nooooooo!!!!
@

Widowmaker

:

(13 October 2016 - 12:57 PM)

Ricky does this mean we delete Battlefield 4 ? He He

@

Ricky

:

(13 October 2016 - 03:51 AM)

Can't wait...
@

Burner

:

(09 October 2016 - 05:17 PM)

Those CoD4 discs, I have them where... where are they? LOL...

@

Racer X

:

(09 October 2016 - 03:24 PM)

I am going to try to jump on COD tonight.

@

Jadefalcon

:

(08 October 2016 - 10:22 PM)

Welcome new recurit Thurgol! See Thread below

@

IrishMadman

:

(08 October 2016 - 06:36 PM)

New person appling by the game name of Thurgul. Played some tanks together, seems like a good fit for the clan.

@

Loony

:

(08 October 2016 - 09:17 AM)

yae I have a house with electricity and running water
@

Jadefalcon

:

(07 October 2016 - 10:05 PM)

GGS Tonight on COD 4 Weekend. Thankns Pillar for setting up the server!!

@

Kegaro

:

(07 October 2016 - 10:04 PM)

Had about 10 people at one point... not a bad turnout... although I know it could have been better.
@

Skribe

:

(07 October 2016 - 09:29 PM)

Good times in the server. Like old times!

@

Kegaro

:

(07 October 2016 - 12:48 PM)

CoD 4 Weekend starts tonight!!

@

Kegaro

:

(07 October 2016 - 12:45 PM)

I didn't delete anything... but I am also running the game via Steam, so if it's a manual install from disk I wouldn't be aware of that.

@

Widowmaker

:

(07 October 2016 - 10:33 AM)

If I remember you also have to delete the PB file where the game is installed.

@

Kegaro

:

(06 October 2016 - 10:03 PM)

Goto the web address Pillar listed below. Download the file named COD4_pbfiles2014.rar. Extract the files into your Call of Duty 4\PB folder. No need to do anything other then that. Then run the game and join the server.

@

PlasmaZombie

:

(06 October 2016 - 09:36 PM)

How did you guys fix stupid punk buster? tried what it said below and didnt work.

@

Kegaro

:

(06 October 2016 - 06:21 PM)

@Jade... well, what did you expect by playing in a testing environment... lol

@

Jadefalcon

:

(06 October 2016 - 05:13 PM)

@Keg....NOOOOOOOOOOOOOOOOOOOOOOOOOOOOOOOOO!!!

@

Tony960

:

(06 October 2016 - 02:58 PM)

Stay dry and safe Loony

@

Kegaro

:

(06 October 2016 - 10:58 AM)

They made a bunch of changes on the PTS this week and as a result they had to reimport the 1.3 live characters... what does that mean... well, it means that all the gear that has been collected over the last week is gone. Welcome to the Test Environment... hehe
Donate to The DaDs Army
Apply to The DaDs Army
1 members, 0 visitors and 0 anonymous users
Kegaro
20 Sep 2016
The DaDs HQ would like to invite all past and present DaDs members and Friends to a weekend of fun, fragging, and friends. So dust off those old cd's, get your game updated, and get ready to frag like it's 2007. The old DaDs Army CoD4 server is currently up and running, thanks to the hard work Pillar did to get things going. The server has tons of custom maps and is still running the ACE mod to unlock all weapons and attachments. Feel free to jump on at any time to auto-level your rank and get your load outs set. We hope to see you all on the server the weekend of Oct 7th.
-HQ-
331 Views · 17 Replies ( Last reply by Burner )
26 Jul 2016
Those of us in DaDs HQ wanted to post up a little blurb about some testing that has been going on. In the last week or so we have been testing out a new voice communication application that was brought to our attention by GreyMouser, and it's called Discord. So, if you haven't seen a lot of the usual people on Team Speak this past week, this is the reason why and you can blame Mouser
.
Discord is a new voice communications application that is currently in beta form and has been circulating around the gaming community for some time now. HQ decided to give this voice comms application a try to see how it compares to Team Speak and how easy and/or hard it was to setup and configure. Currently with Team Speak there are some issue that we feel will only be resolved by completely rebuilding our current Team Speak server, which will be a fairly sizable undertaking. So we figured what better time then now to test out a possible replacement. This is not to say that we will be moving away from Team Speak and going to Discord, but that also isn't an option that is out of the realm of possibility. As of right now the testing has been pretty smooth for an application that is still in beta. We currently have 9 DaDs members that are signed up and have connected to The DaDs Army Discord server, but we would like to see even more of you give it a shot.
So for the next few weeks HQ would highly encourage anyone that normally uses our Team Speak server to also download Discord and join The DaDs Army server. If you wish to find out more about Discord you can check out this link and see all the features that come along with it... I know my favorite so far is being able to use it on my iPhone. Also, please leave some feedback for us in the Discord thread so we know what you guys think of the application.
Discord link is updated -----> HERE (9/18/16)
-HQ-
14 Jun 2016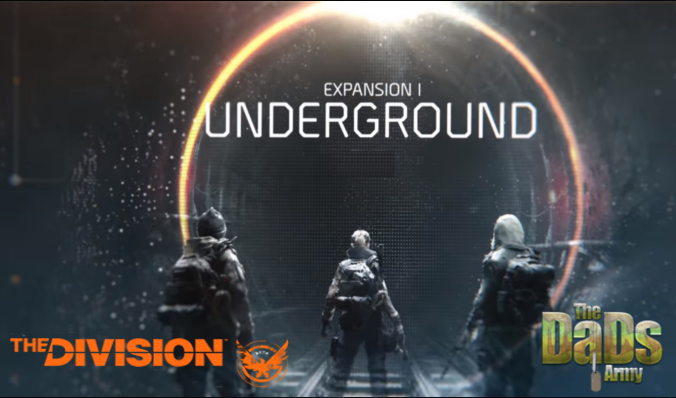 The Division 1.3 Update releases on June 28th
The first of the paid expansions for The Division is set to release on June 28th. This update will have players traversing the subways, tunnels, and sewers of Manhattan, each with random layouts. Underground will also include a new incursion, Dragon's Nest. This update also seems to be catering to the PvE players as there are no mentions of any changes being made to the DZ. There will be new gear sets and weapons introduced with this update as well.
Here are a few of the new things we have learned about for this update:
New Incursion: Dragon's Nest
New Heroic Mode Incursions (Falcon Lost, Clear Sky, and Dragon's Nest)
New Challenge Mode Missions (Hudson Yard and Queen's Tunnel)
New Weapons
New Gear Sets
321 Views · 5 Replies ( Last reply by Unreal )
05 Jun 2016
Over the last several years we've lost two DaDs that we all knew. Papa Jim and Kufie. This is the time of the year that we normally hold the Papa Jim memorial, but we'd like to rename it the Fallen DaDs Memorial. We will hold it around this time each year and it will honor any and all "Fallen DaDs" . Once again this year we will be playing World at War, which from prior experience, we know a lot of members still have loaded up on their computers. We've normally held the memorials on Mondays. So we'd like to designate Monday, June 20th 9:30 pm Eastern, as the date and time for the gathering. It's the day after Father's Day and that seems appropriate too. So post up below soldiers, if you can make it. And remember there will be very little "Search and Destroy...Argh" Spoken in our best Papa Jim voice. We are not asking for donations this year just some time playing together to remember some old friends.
341 Views · 11 Replies ( Last reply by Swiper )
20 May 2016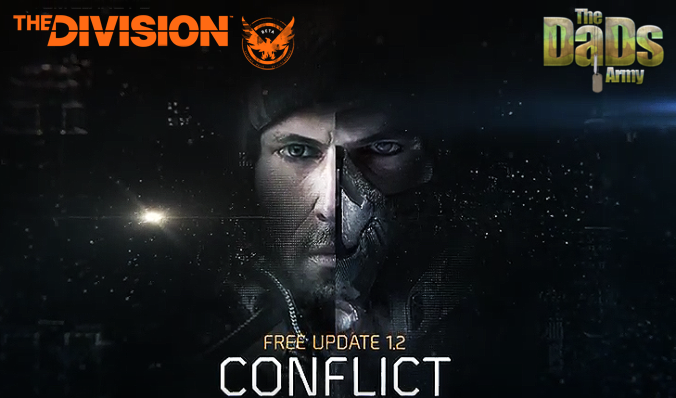 The Division 1.2 Update releases on May 24th
The second free update for The Division is set to release on May 24th. This update will bring some needed changes and add some nice new features to The Division. It will also give the players a few more options as to what play style they would like to pursue and how they can obtain the gear and equipment needed for that play style. This update seems to be catering more to the PvE players then the PvP players this time around. That large open world that Massive created, which is pretty much left behind once a player reaches 30, will have renewed value and be worth exploring once again. There will also be a massive upgrade to the loot system in this patch. No longer will you be receiving a seemingly endless supply of underwhelming gear and equipment. The loot tables have been rebalanced so that more HE weapons, HE gear, and Set pieces will replace all the crafting trash that we have become use to receiving. And of course we will be seeing the introduction of the second incursion, Clear Sky.
Here are a few of the changes that we can expect from the 1.2 update:
New Incursion: Clear Sky
Search and Destroy Missions (read in your best Papa Jim voice)
High Value Target Missions
New Dark Zone tier (201+)
Extraction Highjacking
New Gear sets
258 Views · 4 Replies ( Last reply by Widowmaker )
Upcoming Calendar Events
There are no forthcoming calendar events
Discord
Recent Status Updates
Elite: Dangerous, off to space I go.
What ever happened to the CS:GO push a while ago? Did that game not work for everyone, I see updates all the time.

Show comments (16)
66,977

Total Posts

592

Total Members
Thurgul Newest Member

183

Most Online
1 users are online (in the past 15 minutes)
1 members, 0 guests, 0 anonymous users (See full list)
Kegaro