@

Burner

:

(22 July 2017 - 11:35 PM)

Good games all! Thinking of Jim & Jason tonight.

@

Jadefalcon

:

(22 July 2017 - 10:18 PM)

Sry guys but when Day Of I crashed it took my discord with it. I can't even sign into Discord at this point. I'll work on it tomorrow.

@

DaDs HQ

:

(22 July 2017 - 10:17 PM)

Just want to thank everyone who showed up for the memorial match. It was a good tribute to our Fallen DaDs Papa Jim and Kufie.

@

Jadefalcon

:

(22 July 2017 - 10:15 PM)

I tried but Jason H is not responding.

@

Jadefalcon

:

(22 July 2017 - 10:15 PM)

Wise is working on that Burner. I've also been talking with both Hostgator and Invision. But we can use any help we can get.

@

Burner

:

(22 July 2017 - 05:23 PM)

You guys keeping the site database history of content and forum messages intact for this upgrade I assume?

@

DaDs HQ

:

(22 July 2017 - 09:06 AM)

Forums Upgrade...Wise has been working very hard to get our site upgraded. Please bear with us as we work on completing this task.

@

Jadefalcon

:

(21 July 2017 - 11:34 PM)

@ Widow not me.

@

Kegaro

:

(21 July 2017 - 07:30 PM)

Not that I am aware of.

@

Widowmaker

:

(21 July 2017 - 11:48 AM)

Anybody else get an invite to closed beta test of Ghost Recon PVP test?

@

Jadefalcon

:

(20 July 2017 - 10:37 PM)

Don't forget the Papa Jim / Kufie memorial match will be on this Sat July 22!

@

Jadefalcon

:

(12 July 2017 - 02:59 PM)

Ok I'm going to have to break down and get this PUBG thingy. But not util I come home from a small trip to see my Sister. So probably early next week.

@

DaDs HQ

:

(11 July 2017 - 07:21 AM)

IMPORTANT: The rules on the use of foul language have not changed. All DaDs members are expected to abide by and enforce the rules for the use of language on Comms as spelled out in the rules section of the About Us Tab above. Thanks!

@

DaDs HQ

:

(09 July 2017 - 04:21 PM)

See post under Fallen DaDs Memorial for proposed rescheduled date. Thanks!

@

Burner

:

(07 July 2017 - 08:35 PM)

its about that time, Friday July 7th @ 9:30PM Eastern time

@

Jadefalcon

:

(04 July 2017 - 11:56 AM)

Hope everyone has a fantastic Fourth of July!!

@

Jadefalcon

:

(04 July 2017 - 11:56 AM)

Spent Canada Day in Piction, Ontario with a lot of great CANADIANS!!

@

DaDs HQ

:

(04 July 2017 - 11:55 AM)

HAPPY 4TH OF JULY TO EVERYONE!! And HAPPY CANADA DAY several days late to our Canadian brothers!!

@

DaDs HQ

:

(03 July 2017 - 11:47 PM)

Magman! Great to hear from you! Are you gaming still and if so what is your favorite game these days?

@

Burner

:

(03 July 2017 - 04:57 PM)

The necromancer is calling me... Oooooo D3

@

Burner

:

(03 July 2017 - 04:57 PM)

Hi Mags...

@

Magman

:

(02 July 2017 - 05:22 PM)

hi everyone

@

Burner

:

(30 June 2017 - 08:42 AM)

Day of Infamy seems like a DaDs WWII shooter http://store.steampo.../Day_of_Infamy/
@

Burner

:

(26 June 2017 - 05:16 PM)

Pretty good memories of KF, and I have KF2 but didnt get a lot of time in it.

@

PlasmaZombie

:

(22 June 2017 - 06:04 PM)

Killing Floor free on the humble bundle site. https://www.humblebu..._content=Banner
@

Tony960

:

(18 June 2017 - 02:13 PM)

Happy Father's Day DaDs

@

Crapgame

:

(18 June 2017 - 12:02 PM)

Happy Fathers Day everyone................
@

Sgt.Mike

:

(18 June 2017 - 01:39 AM)

Medal of Honor Pacific assault is free on origin

@

Kegaro

:

(17 June 2017 - 05:12 PM)

Sennheiser Game One or Game Zero

@

Sgt.Mike

:

(16 June 2017 - 06:34 PM)

Turle Beach P 11 have been going on 6 plus years always getting dropped on the floor not had any issues with them

@

Crapgame

:

(16 June 2017 - 01:35 PM)

Turtle Beach............ X12 off of Amazon for 39 Bucks. 6 years and going strong.

@

Racer X

:

(16 June 2017 - 12:44 PM)

So fater many years my headphones just broke. Anyone have a good reco for a replacement?

@

Widowmaker

:

(12 June 2017 - 06:17 PM)

They Played well. Someday the Leafs will be there. Of course I'll be dead by then......

@

Crapgame

:

(12 June 2017 - 05:10 AM)

@ Widomaker..... Back to back Champs the Pittsburgh Penguins.... Yesssssssssssssssssssssssssssssss !
@

Jadefalcon

:

(10 June 2017 - 11:02 PM)

I'm too tired tonite but we've been having some real fun Widow in GR Wildlands Fallen Ghost!!
Donate to The DaDs Army
Apply to The DaDs Army
0 members, 1 visitors and 0 anonymous users
28 Jun 2017
It's hard to believe that yet another year has passed since our beloved members Papa Jim and Kufie passed away. I know that last year we designated June 20th as our official "Fallen DaDs" memorial date. I would like to apologize on behalf of the members of HQ for letting that date slip by. Since the "official date" has passed we would like to get everyone together on Friday July 7th @ 9:30PM Eastern time for a few rounds and to celebrate the lives of those we have lost. We assume some people may not be able to make it and that is to be expected as this is only a few days after the 4th, but we would appreciate if everyone that is available jumps on Discord that evening.
Like previous years we will most likely play some World at War.
If you plan on being there, or even think you might be able to make it, please let us know.
On behalf of DaDs HQ,
Thank you
481 Views · 13 Replies ( Last reply by Burner )
09 Mar 2017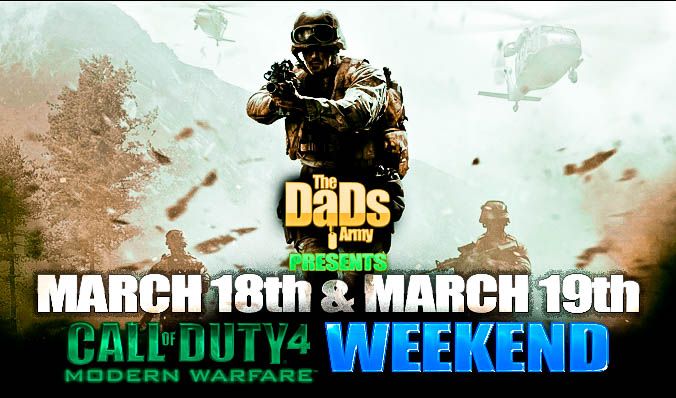 718 Views · 11 Replies ( Last reply by Jadefalcon )
20 Sep 2016
The DaDs HQ would like to invite all past and present DaDs members and Friends to a weekend of fun, fragging, and friends. So dust off those old cd's, get your game updated, and get ready to frag like it's 2007. The old DaDs Army CoD4 server is currently up and running, thanks to the hard work Pillar did to get things going. The server has tons of custom maps and is still running the ACE mod to unlock all weapons and attachments. Feel free to jump on at any time to auto-level your rank and get your load outs set. We hope to see you all on the server the weekend of Oct 7th.
-HQ-
705 Views · 17 Replies ( Last reply by Burner )
26 Jul 2016
Those of us in DaDs HQ wanted to post up a little blurb about some testing that has been going on. In the last week or so we have been testing out a new voice communication application that was brought to our attention by GreyMouser, and it's called Discord. So, if you haven't seen a lot of the usual people on Team Speak this past week, this is the reason why and you can blame Mouser
.
Discord is a new voice communications application that is currently in beta form and has been circulating around the gaming community for some time now. HQ decided to give this voice comms application a try to see how it compares to Team Speak and how easy and/or hard it was to setup and configure. Currently with Team Speak there are some issue that we feel will only be resolved by completely rebuilding our current Team Speak server, which will be a fairly sizable undertaking. So we figured what better time then now to test out a possible replacement. This is not to say that we will be moving away from Team Speak and going to Discord, but that also isn't an option that is out of the realm of possibility. As of right now the testing has been pretty smooth for an application that is still in beta. We currently have 9 DaDs members that are signed up and have connected to The DaDs Army Discord server, but we would like to see even more of you give it a shot.
So for the next few weeks HQ would highly encourage anyone that normally uses our Team Speak server to also download Discord and join The DaDs Army server. If you wish to find out more about Discord you can check out this link and see all the features that come along with it... I know my favorite so far is being able to use it on my iPhone. Also, please leave some feedback for us in the Discord thread so we know what you guys think of the application.
They have added a toggle to make the link permanent, so the link below should no longer expire.
-HQ-
14 Jun 2016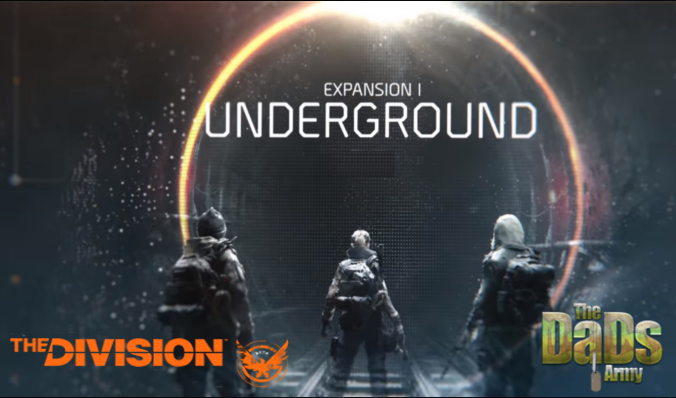 The Division 1.3 Update releases on June 28th
The first of the paid expansions for The Division is set to release on June 28th. This update will have players traversing the subways, tunnels, and sewers of Manhattan, each with random layouts. Underground will also include a new incursion, Dragon's Nest. This update also seems to be catering to the PvE players as there are no mentions of any changes being made to the DZ. There will be new gear sets and weapons introduced with this update as well.
Here are a few of the new things we have learned about for this update:
New Incursion: Dragon's Nest
New Heroic Mode Incursions (Falcon Lost, Clear Sky, and Dragon's Nest)
New Challenge Mode Missions (Hudson Yard and Queen's Tunnel)
New Weapons
New Gear Sets
624 Views · 5 Replies ( Last reply by Unreal )
Upcoming Calendar Events
There are no forthcoming calendar events
Discord
67,187

Total Posts

617

Total Members
CaseyRanfo Newest Member

183

Most Online
1 users are online (in the past 15 minutes)
0 members, 1 guests, 0 anonymous users (See full list)